Pink Fused Alumina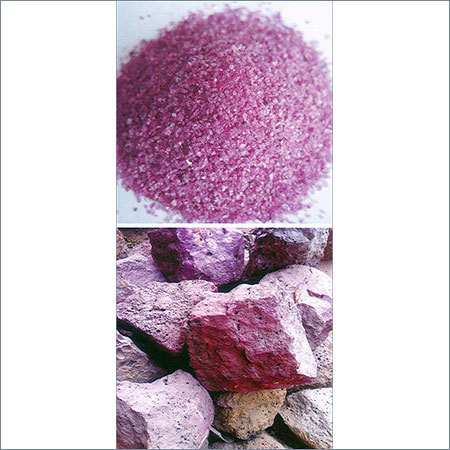 Pink Fused Alumina
Product Description
Process of Production and Character
Pink Fused Alumina is produced by doping Chromia into Alumina, which gives the material pink color. The incorporation of the Cr2O3 into the AI2O3 crystal lattice produces a slight increase in toughness and a reduced friability compared with white Fused Alumina.
Compared to Brown Regular Aluminum Oxide the Pink material is harder, more aggressive and has better cutting ability. The grain shape of Pink Aluminum Oxide is sharp and angular.
Application :
The FEPA F grades are especially suitable for the manufacturing vitrified bonded abrasives for working hardened steels and alloys with tensile strengths of over 50 Kg/mm2. It is also used in tool grinding, knife - sharpening applications, precision grinding, profile grinding, flute grinding, tooth grinding, dry grinding of blade segments and mounted wheels. The FEPA P grades are a preferred material for working non-ferrous metals and the alloys (copper, aluminium, zinc, brass, Bronze), but also used for softer materials, such as wood, synthetics and pains.
Technical Specification :

Items / Chemical Composition

Unit

Medium Chrome

Low Chrome

High Chrome

Size F12-F80

AI2O3

%

98.2 min

98.5 min

97.4 min

Cr2O3

%

0.45-1.00

0.20-0.45

1.00-2.00

Na2O

%

0.55 max

0.50 max

0.55 max

F90-F150

AI2O3

%

98.20 min

98.50 min

97.00 min

Cr2O3

%

0.45-1.00

0.20-0.45

1.00-2.00

Na2O

%

0.60 max

0.50 max

0.60 max

F180-F220

AI2O3

%

97.80 min

98.00 min

96.50 min

Cr2O3

%

0.45-1.00

0.20-0.45

1.00-2.00

Na2O

%

0.70 max

0.60 max

0.70 max

Physical Property

Basic Minerals




-AI2O3

-AI2O3

-AI2O3

Crystal Size

m

600~2000

600~2000

600~2000

True Density

g/cm3

> 3.90

> 3.90

> 3.90

Bulk Density

g/cm3

1.40~1.91

1.40~1.91

1.40~1.91

Knoop Hardness

g/cm3

2200~2300

2200~2300

2200~2300
Contact Us
T1 & T2, Green Palace, Bharathi Street, Subramania Nagar, Salem, Tamil Nadu, 636005, India
Phone :+918045801615